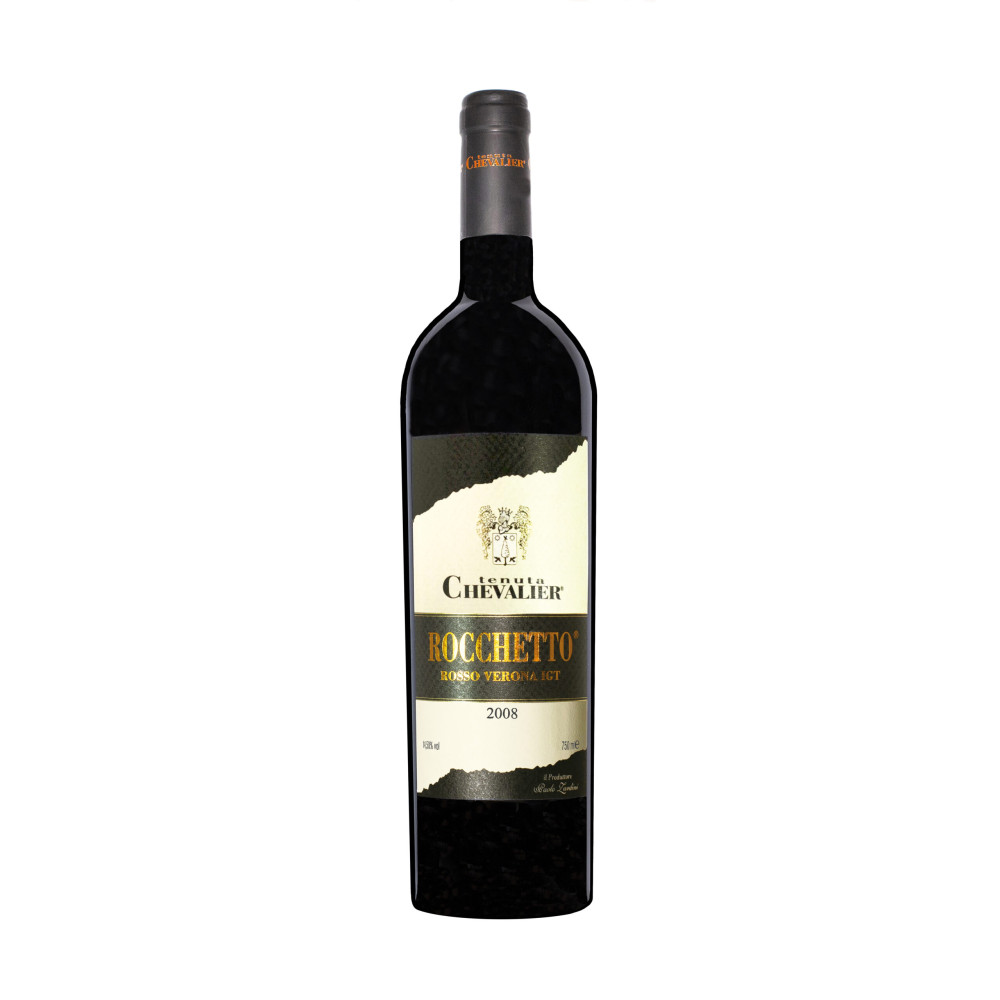  
TENUTA CHEVALIER-ROCCHETTO IGT - ROSSO VERONA CORVINA IN PUREAZZA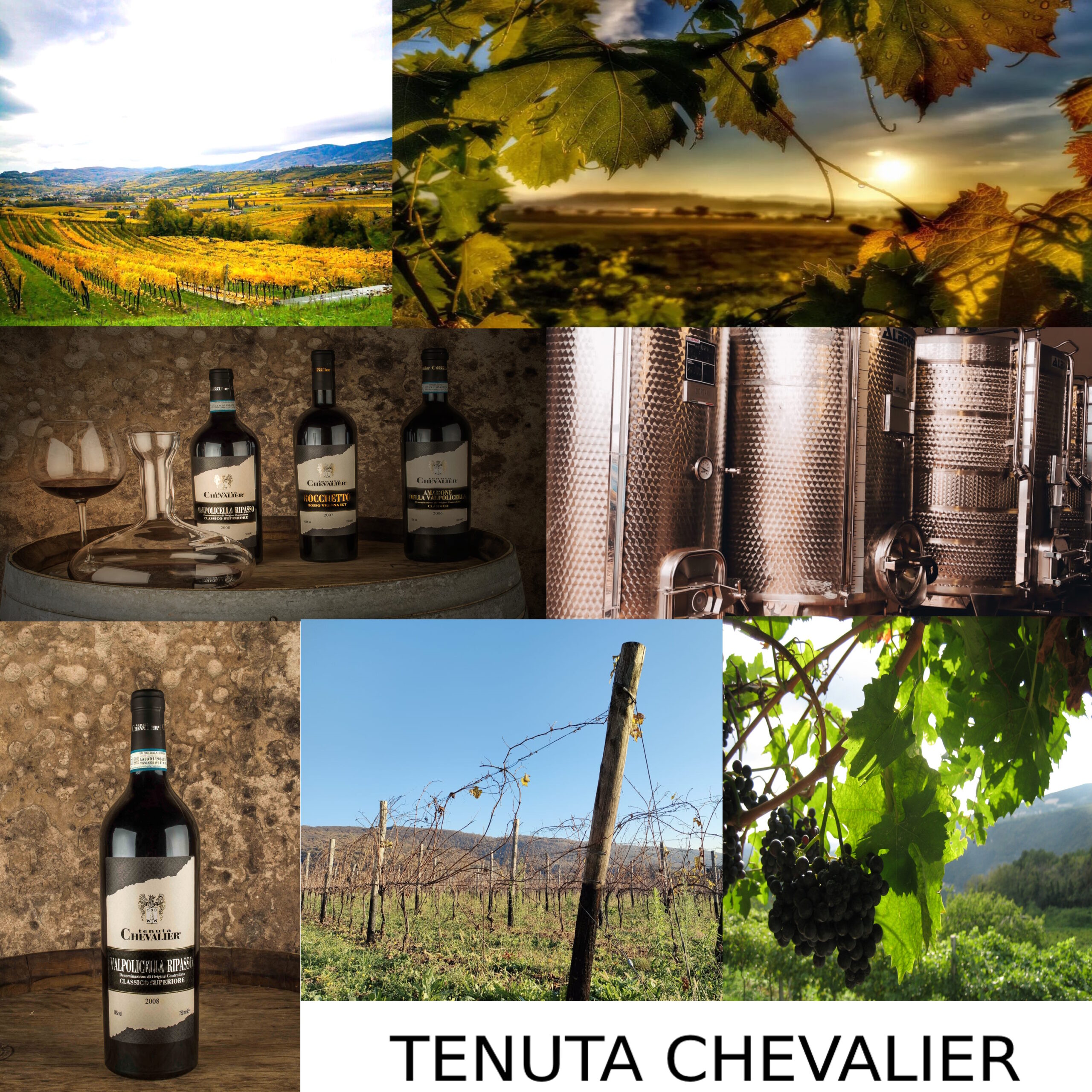 Speaking of a company in Negrar di Valpolicella (Verona) and writing about aging wines, one might have expected a
story about Amarone. But no. Dr. Paolo Zardini has decided to present his wine, the result of years of research and
experimentation: Il ROCCHETTO. A special wine which, as he himself describes: «is a complex single-variety wine,
full-bodied, with an intense ruby ​​red color and an aroma of wild blackberry and spices».
Security policies
Buy safely and pay with PayPal
We ship immediately
Shipping within 24/48 hours by express courier
It is produced with pure
Corvina grapes (100%) derived from a 30-year-old vineyard that has reached its balance but which, translated into wine,
with refinement shows persuasion, elegance and noble fragrance. The Corvina cultivar is in a somewhat difficult
situation; although it plays a key role in a very famous wine (Amarone della Valpolicella), it is not often seen vinified
individually. Indeed, when bottled on its own, it is relegated to lowly IGT status, which is simply unfair! Corvina
produces a wine with an imposing and majestic body, given the advanced late harvest (late November / December) with
floral red fruits on the nose and tasty currant fruits, red cherry, and plum on the palate. Brilliant and fruity, it is
historically compared to Beaujolais and the two certainly have the drinking capacity in common, even if in some
substantial aspects they differ, above all in favor of ROCCHETTO given the remarkable and exuberant quality
contained in the body of the wine..
ROCCHETTO is an intriguing wine derived from late-harvested grapes, withering that the bunches undergo on the
plant, an ancient technique also used by the Reti, to concentrate flavours, aromas and sugars. The yield is much lower
than the standard (about 85/90 quintals per hectare), with a drop of up to 30%, but the wine obtained is very rich in
extract, fruit and alcohol and is therefore incredibly structured and full-bodied. Another of ROCCHETTO's secrets is
linked to the territory as well as to the cellar practices. The production area is the noblest of the historic Valpolicella, i.e.
the hilly part of Negrar della Valpolicella, about 350 meters above sea level. The vinification is characterized by soft
destemming and fermentation which varies from 15 to 20 days, with Delestage combined with punching down and
pumping over, performed with absolute mastery. Fermentation takes place at a controlled temperature in stainless steel
between 20 and 22°C. Malolactic fermentation takes place, because it is sought after by consolidated oenological
protocols, at the same time as the Primary or tumultuous one, subsequently, the wine is refined in large barrels of
selected medium toasted French oak and of variable capacity (25 hl / 10 hl) for many years, usually followed by a few
years of aging in the bottle; there are still perfectly preserved vintages over 14 years old. In any case, ROCCHETTO is
a wine that has an oenological useful life of at least 20 years.
The wine has a beautiful, very dense and almost impenetrable ruby ​​colour. The nose is complex and beautiful, releasing
fruity aromas of ripe cherry, raspberry and blackberry, the classic hints of undergrowth accompanied by a note of dark
chocolate, which transcends into the hint of leather. We therefore perceive spicy hints of cinnamon, vanilla, an olfactory
contribution certainly made by the wood, but also by the evolution of the wine in synergy and refinement with the
barrel, and the multiple essences of the various types of wood used during the refinement. Then licorice and roasted
coffee, the hint of roasting is evident. Finally we perceive finely oriental notes (labdanum and benzoin, cinnamon) very
delicate as a side dish. In the mouth the wine is warm with its 15 degrees, with the softness well balanced by the marked
freshness and the full-bodied tannin, however very fine and perfectly melted in the wine. The bouquet is fleshy with
greedy fruit, especially cherries and sour cherries, flowers and warm autumn essences combined with light but distinct
mineral and spicy notes. The structure is great. The organoleptic triad of taste in this wine best expresses the balance
between: Alcohol, Acidity, Sugars and Dry Extract. Fruity and harmonious returns envelop the palate with an exclusive
elegance, this sensation makes the drink delicious and very long. If aged over time, this wine becomes even more
interesting and develops an intriguing balsamic and aromatic herb charm.
Velvety wine suitable for classic meat dishes such as chicken curry, ribs with barbecue sauce, baked lasagna, truffle
risotto, pulled pork, Argentinean empanadas, game, spicy barbecues, earthy stews, fillet Wellington, aged cheeses.
Finally, a wine that finds its primary place in meditative tasting.
On the palate it is a broad, soft, warm wine, supported by a good freshness that gives rhythm to the sip. The tannins are
docile and velvety. It is a majestic and imposing wine that embodies all the history and evolution of this company
anchored in the production of the great wines of the historic (classical) Valpolicella but oriented towards exploring the
micro-vinifications of the highest quality. ROCCHETTO is produced in a hilly area with a very high wine-growing
vocation of Negrar di Valpolicella.
Il vino Rocchetto 2017 è corvina al 100%
Customers who bought this product also bought:
Regular price
€35.00
Price
€31.50
Questo vino è già pronto per essere degustato ora, con grande soddisfazione; ha comunque qualità che gli permettono di evolversi e affinarsi nel tempo, correttamente conservato, per almeno altri 2-3 anni.