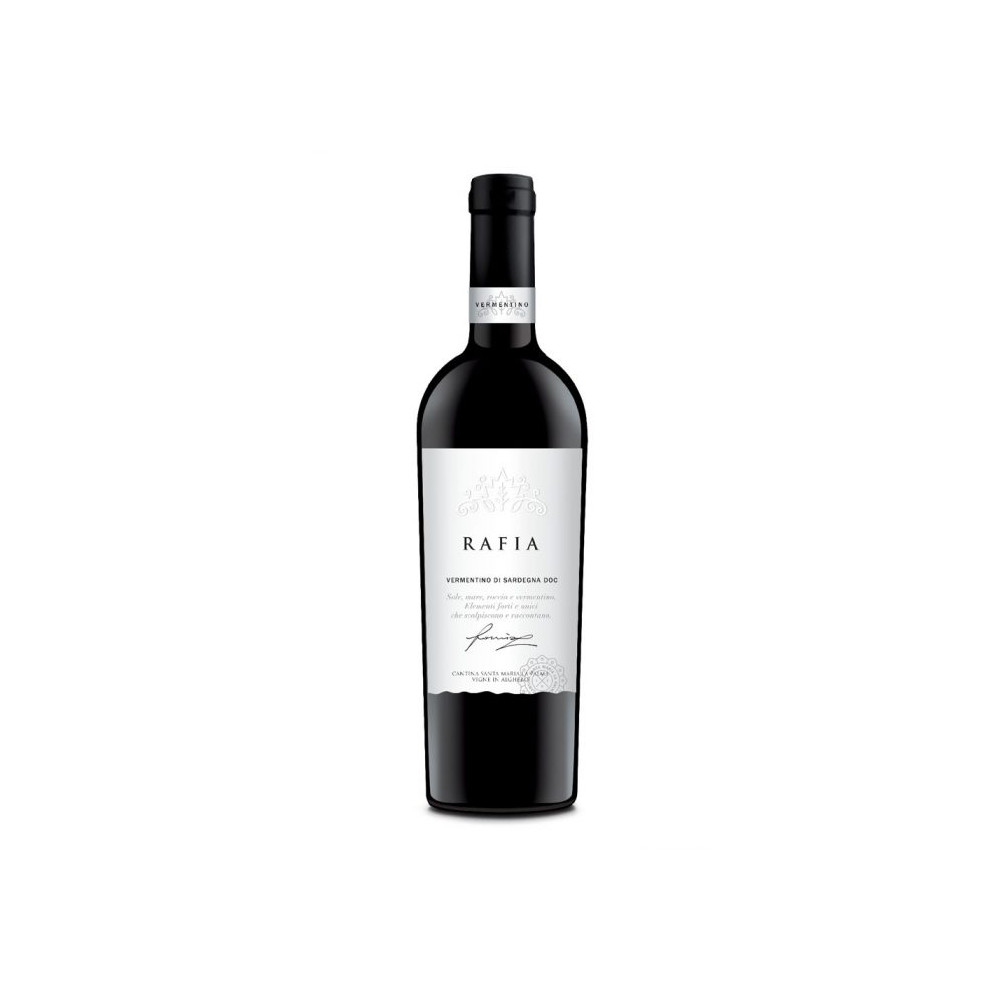  
RAFIA - VERMENTINO DI SARDEGNA DOC 2021
Vermentino di sardegna D.O.C.
Una collina di origine calcarea ben esposta al sole, dalle forme addolcite dai venti marini, un equilibrio perfetto per una terra arida e antica, ricca di preziosi elementi e capace di nutrire i vigneti più antichi con quella salinità e sapidità tipica del territorio di Alghero. Piante che producono pochi grappoli ma di grande qualità. È in questo territorio naturale ricco di luce che nasce il Vermentino Ràfia.
Security policies
Buy safely and pay with PayPal
We ship immediately
Shipping within 24/48 hours by express courier
Tradizione e innovazione si fondono per dare origine a questo vino: la rafia come simbolo di un legame tra pianta, terra e contadino, un legame forte ma fatto di gesti delicati con i quali prendersi cura della vite. L'assaggio dell'acino rappresenta ancora un momento fondamentale per testare la croccantezza della buccia, la pienezza e corposità dei chicchi e valutare la giusta maturazione, per poi procedere con la tradizionale raccolta a mano dei grappoli da conferire in cassette da metà settembre. Un
lavoro lungo, paziente, fatto di osservazione; una meticolosa ricerca dell'attimo migliore per tagliare i dorati grappoli.
Le cassette con l'uva vengono raffreddate in cella frigo a temperature prossime agli zero gradi per permettere, durante la pressatura, una totale estrazione di aromi dalle bucce. Dopo 6 ore di attesa in pressa, il mosto raggiunge il contenitore d'acciaio e, dopo una sedimentazione naturale del prodotto, parte la fermentazione del Rafia a temperatura controllata di circa 13 gradi. A questa temperatura, il mosto esprime tutto il suo potenziale aromatico e gustativo.
Dopo qualche giorno, il Rafia continua la sua fermentazione in botti di rovere da 500 litri e lì rimane, per circa 10 giorni durante i quali viene effettuato il bâtonnage, cioè il rimescolamento manuale delle fecce nel vino. Il passo successivo è l'affinamento in acciaio per circa un anno. E' proprio durante questa fase che il bâtonnage determina il carattere finale del vino modificandone profondamente la percezione gustativa. Il vino acquisisce corpo, volume longevità e carattere. L'affinamento è poi completato con il riposo in bottiglia di circa 4 mesi.
Colore: Giallo paglierino con riflessi dorati.
Profumo: Intenso con note floreali che lasciano subito lo spazio a sentori di frutta, buccia d'arancia e limone, con un leggero speziato finale.
Sapore: Sapido, con una delicata dolcezza in ingresso, con volume al centro della bocca e lungo e persistente nel finale.
Temperatura di servizio: 12° C – 15° C
Alcool: 13.5% vol.